Procurement Overview
What is "local?"
Who decides what "local" is? You do! There is no federal definition of local. Adopt a definition that fits your needs. "Local" may include limitation on farm size, and/or a geographic area.
The Procurement Process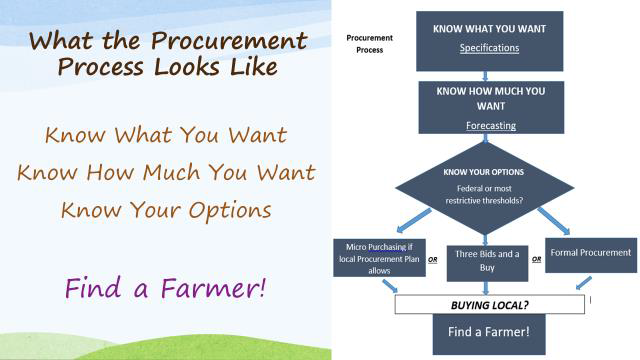 Easy as 1,2,3
1. Know your small purchase threshold level. This may be the state level of $20,000 or a smaller amount set by the local district. Use the smaller of the two.
2. Determine the estimated purchase amount of the product. Two resources for reliable cost estimates are:
Two reliable sources for determining the amounts of raw product needed are:
3. Compare the estimated purchase amount to the purchasing threshold to determine what procurement method will be used.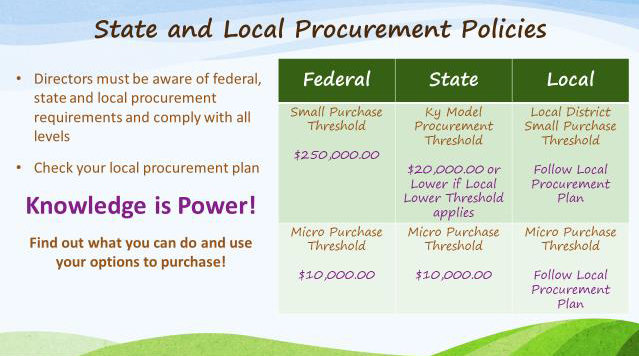 For a description and guidance on application of micro-purchasing, informal small procurement (three bids and a buy) and formal purchasing, view the Power Point presentation, "Specification Guidance and Innovations in Purchasing Local".
Writing Product Specification
Use product specifications to assure you get exactly the product you need. Include:
Size
Quantity
Quality
Processing
Packaging
Food Safety
Delivery
Here are some resources to aid in developing specifications:
Example of a specification sheet for fruit available here
Example of a specification sheet for vegetables available here
Example of a specification sheet for beef available here
Documentation for Quotations form available here
Specifications can also be used to target local products. Consider specifying:
Particular varieties unique to the region
Freshness (Specify delivery within short period after harvest)
Size of farm
Harvest techniques
Crop diversity
Origin labeling
Availability of farm to host farm visits or class visits
Kentucky Proud Buy Local Program
Participating in the Kentucky Proud Buy Local Program can provide reimbursement for purchase of local products. Access the application and guidelines here.
Geographic Preference
THE 2008 FARM BILL directed the Secretary of Agriculture to encourage schools to purchase locally grown and locally raised products "to the maximum extent practicable and appropriate." The Secretary was also instructed to allow child nutrition program operators to use a "geographic preference" when procuring locally grown and locally raised unprocessed agricultural products. Unprocessed locally grown agricultural products that retain their inherent character are eligible for a geographic preference. See this document for more on geographic preference:
Geographic Preference: What It Is and How to Use It: https://fns-prod.azureedge.net/sites/default/files/f2s/GeoPreference.pdf